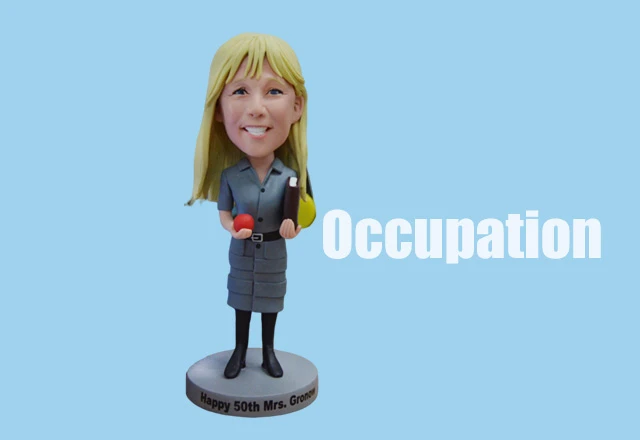 Occupation
Custom occupation bobblehead to show the world how much you love your job, or what you are aspiring to be. We can customize dolls for all types of occupations.
Medical staff 🏥(doctor bobbleheads 🩺, nurse bobblehead 💉, surgeon bobblehead ⚕, pharmacist bobblehead 💊, dentist bobblehead 🦷)
Boss bobblehead, office man, office lady(OL), computer bobblehead 👨‍💻
Pilot 👨🏻‍✈️, flight attendant, astronaut 👨‍🚀
Chef bobblehead 👨‍🍳, mechanic 👨🏻‍🔧, photographer 📸, magician.
Or you want to gift your workmates for their promotion, birthday, retiring or leaving, Business bobblehead is a perfect gift idea.
- You can choose a standard body bobbleheads and order, we will hand sculpt the head to resemble the photo that you provide to us.
- You can also alter the clothes color / clothes style / pose, no extra cost.
- If you don't find the satisfied model on our store, contact us and briefly describe your needs and ideas, you can design your figurine completely by yourself.
---